About Martin Jay Rosenblum, AIA & Associates
Martin Jay Rosenblum, AIA and Associates (MJRA) is an architectural firm specializing in residential design, rehabilitation, restoration and historical research.  Since its founding in 1980 the firm has grown to include professionals in the fields of architecture, interior design, historic preservation planning and building materials conservation.  With this diverse range of expertise the firm is able to provide a comprehensive approach to contemporary residential design and the restoration and rehabilitation of traditional properties.
The firm has a strong reputation for its skillful and non-obtrusive introduction of modern amenities into traditional/historical settings: we like to say that we don't just restore old properties – we rejuvenate them.  However, MJRA is not limited to only traditional architecture: the firm is also known for award winning individualized designs of contemporary homes.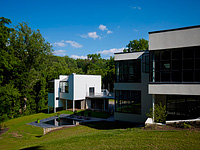 Completed restoration commissions include a significant number of eighteenth and nineteenth century houses.  Projects for the George Read II House in New Castle Delaware and Dumbarton House in Washington, DC were published in Antiques magazine.  A major restoration of "Clifton" a federal style plantation in Berryville, Virginia was published in Southern Accents magazine. Work on the restoration of the Rodeph Shalom Synagogue in Philadelphia, PA  received numerous awards and was featured on the cover of Traditional Building magazine.
Recent contemporary design projects include the award winning addition to and restoration of the Spreter Studio of famed twentieth century international style architect William Lescaze.  This commission was recently awarded the AIA Philadelphia's top honor for 2009: the prestigious Gold Medal Award and was featured in Context magazine.  A large new residential project in the Caribbean was published in Island Life magazine, and recent commissions have also included residences designed with the sustainable and healthy home design criteria of the "green" architecture movement.
The firm has also collaborated with major interior design firms.  The extensive restoration of the Count Bodisco (Heinz-Kerry) House in Georgetown, Washington, DC, to house the late Senator John Heinz's extensive art collection was done in conjunction with Mark Hampton.  Of equal note is the total renovation of the Mellon-Randall-Fleishman residence on Kalorama Circle in Washington, DC, which was done in conjunction with Parrish Hadley.
MJRA's commissions have involved work on eighteenth, nineteenth, and early twentieth century structures located along the East Coast, from Florida to New Hampshire, and as far west as Arkansas and internationally in the Caribbean.  The firm has worked on more than three hundred public and private commissions ranging from house museums and houses of worship to commercial structures and private residences. 
MJRA has extensive experience with clients who demand the finest quality in building restoration and detailing, including the integration of modern conveniences, and individualized design including new traditional and contemporary homes.  The firm's breadth and depth of experience is exemplified by the projects to its credit, which range from museum quality restorations to contemporary new designs.  The firm always strives to strike a balance between the desire for authentic, distinct, and rich architectural detail and the requirements of contemporary living.  The ability to strike such a balance is a hallmark of the firm's work and makes it particularly well suited to the restoration and rehabilitation of historic and traditional properties and the design of traditional and contemporary styled buildings.