Awards
2010
Residential Architect Magazine Design Award
Grand Award Restoration/Preservation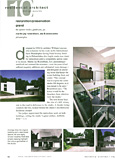 2009
Preservation Alliance for Greater Philadelphia, Preservation Achievement Awards, Grand Jury Award

AIA Philadelphia Awards for Design Excellence
Gold Medal Award – Top Honor Built Category
AIA Pennsylvania
Awards for Architectural Excellence
Honor Award
Pennsylvania Historic Preservation Awards
Preservation Pennsylvania/Pennsylvania Historical and Museum Commission
Single Family Residential Construction Award
Township of Lower Merion
Historical Commission and Historical Architectural Review board
Historic Preservation Award
2006
AIA Philadelphia Awards for Design Excellence,
Recognition Award, Restoration Project
Preservation Pennsylvania/Pennsylvania Historical and Museum Commission, Historic Preservation Award
Preservation Alliance for Greater Philadelphia,
Preservation Achievement Award
1995
Pennsylvania Historical and Museum Commission,
Historic Preservation Award
1984
John J. MacArthur Award, Best Commercial Rehabilitation
(Allman Building, Syndicated Property Associates),
  Restore Philadelphia
Press

The Landmark
Winter 2010
Context
Summer 2009
Washington Spaces
2009
"Architect Martin Jay Rosenblum of Martin Jay Rosenblum & Associates, which specializes in historic restorations and traditional homes, led the painstaking four-year restoration of this glorious mansion." — click here to see online article
Traditional Building
December 2005
Island Life
2003
The Martin Jay Rosenblum AIA Caribbean design home was the cover article of Island Life Magazine in 2003.

At Home Arkansas
October 2001
MJRA had barely completed the renovation of a town house in Washington D.C. when Donna and Mack McClarty asked him to assist them in updating Mac's boyhood home in Hope, Arkansas.
For sentimental reasons, Mack insisted that changes to the house not be intrusive. He wanted the changes to facilitate a new type of interaction.
Originally, when Mack McLarty's parents built the house, they maintained a full time staff. The home, now used as a get-away for their hectic lives in New York, Washington, and Little Rock, has different needs. For example, the kitchen, once closed off from the entire house was opened to the breakfast and family room, a full bar
was removed and replaced by a butler's pantry/hutch.
Though reflecting its' roots, the home appears fresh, open and new. Infused with new life and updated for the next generation, the house is a family favorite for holidays and vacation.
Kitchen and Bath Ideas
Winter 1998-1999
This article, "A Color Coup" from the winter 1998-99 issue of Kitchen and Bath Ideas magazine, featured MJRA's work on White House correspondent Ray Scherer and his wife Barbara's home in Washington D.C.
Before hiring MJRA, the flush metal cabinets in their old galley kitchen had been decorated with a collage of prints from the couple's extensive travels. Put simply, these collages were a reflection of Barbara's desire for a rich and colorful experience in which virtually no surface would be left plain.
With all of this in mind, it was determined that a modest addition would be required to convert the former galley kitchen into a casual living space. Barbara wanted the lifestyle of their farm in Virginia to be a setting for their extensive collection of ceramics - the centerpiece of which was a small della robbia medallion that Barbara had purchased in Italy.
This inviting space, best described as Virginia cum Tuscany, has transformed a dreary corner of the house into a true hearth as warm and inviting as the cut flowers that Barbara keeps everywhere she can.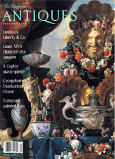 Antiques
January 1998
Dumbarton House, an 1802 free standing town house, was constructed for Joseph Nourse, the register of the United States Treasury under Thomas Jefferson.
The house was moved from its original site in 1915 to make way for an extension of 'Q' Street and "restored" years later by Fiske Kimball.
For the next sixty five years, the house served as the headquarters/museum of the National Society of Colonial Dames of America. Changing needs and usage, as well as normal wear and tear, resulted in a seldom used, seldom visited facility.
MJRA's vision for a reorganized facility allowed for proper restoration of the museum spaces and increased events and gallery spaces in a new underg round reception room.
The newly restored spaces were extremely well received when this article was published in Antiques magazine in January of 1993.
The reinvigorated house continues to evolve as the membership actively researches and pursues the final stages of restoration. Once easily overlooked, this Georgetown landmark shines and is the center for numerous cultural and social events.
Custom Builder
May/June 1997
Southern Accents
November-December 1993
When Harriet Hertges and Wayne Koonce purchased Clifton, an 1834 transitional federal to greek revival in Berryville, VA, they immediately hired MJRA to supervise the restoration. The firm had already worked with the Koonce-Hertges on their Georgetown home.
The property had operated as a farm for many years, and although vestiges of its past were evident, numerous utilitarian changes had been made, none of them in an appropriate manner.
MJRA surveyed the entire property and planned the restoration of the entire building envelope from foundation to roof. The firm also supervised the skillful integration of modern utilities and the discrete additions of a new kitchen and bathrooms.
The finished product, furnished with Wayne and Harriets' extensive collection of English and American antiques, featured in this article in Southern Accents, clearly shows the wear of time reversed, and Clifton restored as a splendid formal residence perched over a verdant country side.