1830 Marquee — Philadelphia, PA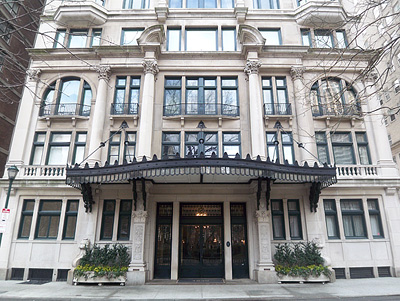 1830 Rittenhouse Square was erected in 1913 as the first high-rise residential building on the Square. It was designed by noted local architect Frederick Webber, renowned for designing numerous apartment buildings throughout Philadelphia. Located within the Rittenhouse/Fitler Historic District, the building is replete with Beaux Arts detailing, including a cast iron entrance marquee.  The marquee is the signature piece of 1830 Rittenhouse Square, a visual landmark at pedestrian level that exudes Old World elegance not found elsewhere on the Square.
Although marquees were prominent elements on important buildings during the late nineteenth and early twentieth centuries, their difficult upkeep and changes in design fashion has led to the removal of most of them. The 1830 marquee is particularly unique for its beautiful form, and because it is original to the building, but it too had suffered from physical deterioration and alterations over the years. When pieces of the marquee began to fall off, the residents of 1830 Rittenhouse Square contacted MJRA for assistance in documenting its condition and making recommendations for its repair. 
Documentary and field research of typical marquees of the period revealed that the 1830 Rittenhouse Square marquee retained many of its original features. These included the cresting (antefixes), suspender rods and turnbuckle covers, fascia decoration (rosettes), the glass valance in front of a bare-bulb electric light rail, and wrought iron support brackets. The research also hinted at what had been altered or was missing. An example being that the antefixes overhung the fascia supported on crude L-brackets; whereas cresting typically rested atop a cornice. A ghost on the fascia indicated a missing cornice, which further confirmed the original marquee had been altered.
MJRA and the residents of 1830 Rittenhouse Square decided that the best course of action to address ninety years of deterioration and design alterations was to undertake a restoration to the marquee's original appearance c. 1913. After establishing the scope of work, Martin Jay Rosenblum & Associates interviewed contractors and foundries using selection criteria including past experience and their restoration methodology for this particular project. The resulting project team determined that by locating proper lift points, the entire canopy could be removed for restoration in one piece. This minimized damage to the marquee during removal and allowed for a long-term restoration independent of public safety issues, resident inconvenience, and weather considerations that an in-situ restoration would have presented.  It also allowed for structural deficiencies to be corrected and lead paint safely abated. 
The marquee was removed by a crane and transported via flat bed truck to a foundry in Topeka, Kansas. Once at the foundry, it was cleaned, lead paint was abated, and deteriorated elements repaired and reinforced. Certain elements were replicated by using molds formed from the existing elements and a new cornice design was based upon cornice profiles found on other Frederick Webber cornices; the cornice was cast in aluminum to allow for the curvature of the fascia plate. A new ceiling design was created to conceal the secondary structural elements and the storm water plumbing. It was a simplified modern interpretation, executed in sheet metal, of a traditional coffered ceiling.
After nearly eleven months of work the marquee was restored to the building where it is once again a landmark on Rittenhouse square.