Cliveden — Philadelphia, PA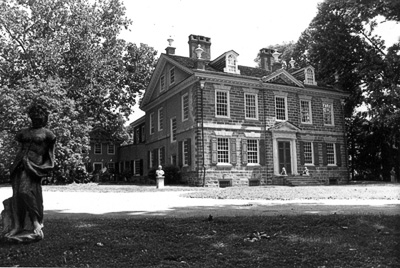 Cliveden, a co-stewardship property of the National Trust for Historic Preservation, is a premier example of American Georgian architecture built from 1763 to 1767.  It is also the repository of an unrivaled collection of 18th century furniture that descended through seven generations of a single family, the Chews, who owned Cliveden from its construction until 1972.
Martin Jay Rosenblum had a long professional association with Cliveden that began in 1972 when he led the Historical American Buildings Survey team at the site.  The conversion of the barn into a visitors' center was the subject of his graduate design thesis for the Columbia University Historic Preservation Program.  While working for John Dickey, FAIA, Mr. Rosenblum served as the project architect for the restoration of this structure.  He also later served on the board of Directors of Cliveden Inc until he resigned after being retained to undertake the Historic Structures Report (HSR) for the site.
A significant contribution of the HSR was the incorporation of a comprehensive review of the Chew family papers, a collection of over 200,00 documents relating to the history  of Cliveden and the life of the Chew family.
The HSR also included in-depth field research into the design, construction, and architectural evolution of Cliveden,  documentation and conservation analysis of building materials, and recommendations for short and long term site restoration, maintenance, and interpretation. The HSR team included consultants in related disciplines such as paint analysis, landscape history, archaeology, mechanical and structural engineering.
Martin Jay Rosenblum, AIA and Associates has also served as project architect for restoration projects at Cliveden, including chimney restoration, wood shingle roof replacement, replication of the notable limestone roof urns, and rising damp mitigation.