Brownstone Condominium Conversion — Philadelphia, PA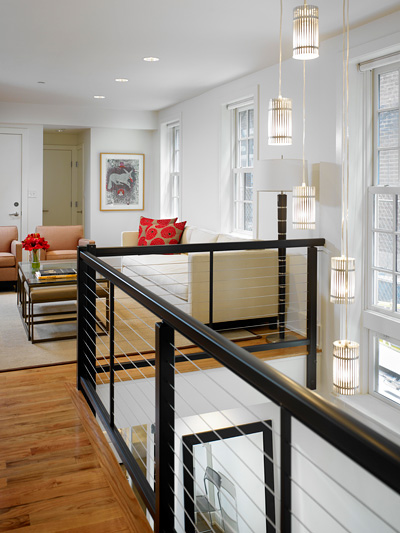 This project consisted of the complete renovation of a historic brownstone townhouse located on Pine Street in Center City Philadelphia.  The structure was originally constructed c 1850 as a private residence that was part of Lewis' Row – at the time an influential block long development of row houses in the Italianate style.  The buildings were designed by Architect Thomas U Walter, a noted 19th century architect best known for his design of the US Capitol building.
When purchased in 2005 the once grand home had long since been chopped up into 6 separate units.  It was a dark, deteriorated and substandard student housing building. Only two major spaces in the house remained somewhat intact and the building's structural elements were unstable.
First MJRA conducted a thorough survey of the existing conditions to assess the structural conditions, and to identify historic features that could be restored and maintained.  These included the handsome brownstone façade, original windows with pocket shutters, elaborate parquet floors, and several mantelpieces.  Once the survey had been completed the building was carefully disassembled and structurally stabilized.  With the shell stabilized a new 4 unit luxury condominium design was inserted.  Using contemporary detailing and finishes the dark cramped apartment building has been remade into vibrant light filled homes.  Carefully crafted multi-level soaring spaces were created with light shafts that deliver natural light throughout the structure.  Each unit was further enhanced by adding special features such as reused mantle pieces and careful selection of lighting and finishes so all the units seem equally significant.
There is now an overall feeling of spaciousness, light, and repose that makes this condominium an oasis in the city.