Townhouse Renovation, Georgetown, Washington, D.C.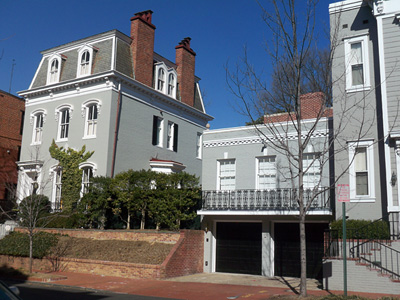 Located in the Georgetown Historic district of Washington DC, this unique project consisted of two separate structures: a main house and a carriage/guest house over a garage.   The area between the two structures was encumbered by an easement restriction that limited new construction, but the owners of the hiome.  Martin Jay Rosenblum, AIA and Associates (MJRA) had worked on the main house for a previous owner and were contacted by the present owners to design an enclosed connection between the two structures.

MJRA scrutinized the easement documents and discovered that there was an exception for an underground garage.  MJRA then negotiated with the Washington DC Historic Preservation and the easement trustees and secured permission for an underground connection instead of a garage. MJRA has designed the underground structure not only as an interior connection between the two structures, but also as a small gym and home theatre.  Locating these functions in the underground connection serves to isolate their noise from the home, and makes maximum use of the new structure.  The roof of the underground structure is designed to as an extension of the original garden, so the new structure is virtually invisible at the ground level.  This in turn preserves a bay window on the ground floor parlor of the main home that looks out over the garden.
Another feature of the project is the addition of a new office/study for the owner located to the rear of the Carriage/Guest House. Locating it here allows it to look out over the garden, and lessens its impact with the street to which it is connected by a graceful sweeping stair.  The Study/Office is designed with custom paneled ribbon mahogany and is a contemporary interpretation of a traditional space. 
In the main house the lower level was redesigned as a children's play/activity space, including a crafts area with sink, and a sitting nook that can double as a stage for impromptu performances. A Library in the main house that MJRA had designed for the previous owner was maintained in the current renovation, but opened to the newly renovated kitchen to make it seem more spacious, and less formal.

This project demonstrates how the diligence and experience of MJRA enables our firm to turn what appear to be intractable problems into opportunities for creative and exciting design solutions.